At Oran's Electric, we're proud to be the go-to team in Van Nuys for a wide variety of electrical services. Whether you need a residential electrician to install recessed lighting in your home or you want to sign a maintenance agreement with a commercial electrician for all of your office building's needs, our team has you covered. From intercoms to eco-friendly lighting systems to electrical panel upgrades, there's job too big or small for our team of experienced specialists. We offer flawless precision and long-lasting workmanship with every installation or repair, so you know you're getting nothing short of excellence when you hire our team for the job. Learn more about our residential and commercial electrical contractors when you reach out to us by phone or e-mail today!
Residential & Commercial Electrical Contractors
Emergency Services Available
Licensed, Bonded & Insured
No Job Too Big or Small!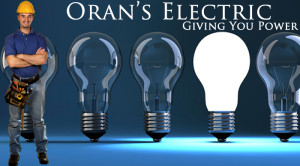 Oran's Electric is a commercial and home electrical company that's committed to providing local customers with full-service workmanship and customer care. We go the extra mile with every single job we perform, making sure to exceed all of our customers' expectations. Our all-inclusive services, combined with our dedication to top-quality handiwork, are what put us ahead of the local competition. So if you're a resident or business owner in the Van Nuys area and you're looking for a residential or commercial electrician you can trust, Oran's Electric is the only name you need to know. 
A family-owned business since 2007, Oran's Electric is happy to serve homes, businesses, and other commercial properties throughout the area. Give us a call if you're in Van Nuys, Beverly Hills, Burbank, Calabasas, Culver City, Encino, North Hills, Sherman Oaks, Woodland Hills, Studio City, or anywhere else nearby. We love our local community and are proud to serve it with our dependable services. 

At Oran's Electric, we're not like any other residential or commercial electrical company you've worked with before. We not only provide top-of-the-line handiwork for all of our customers, but we also do whatever it takes to ensure your total satisfaction with whatever electrical service you hired us for. Whether we're installing a home theater system or setting up your network cable wiring, we offer full-service handiwork to ensure you get the biggest bang for your buck. For instance, during a home theater setup, we don't just stop at mounting the flat-screen and speakers—we'll also carefully hide all of the wires behind the walls so that there are no tripping hazards or visual distractions. We want you to get the most out of your electrical systems, and we'll do what it takes to make sure that happens. 
Additionally, we offer free estimates, waived service call fees with completed repairs, and emergency services. We're bonded and insured electrical contractors licensed by the state of California (Licensed Contractor C-10 #940649). We even back many of our services with warranties! To learn more, call or e-mail Oran's Electric today.