Services Offered
Oran's Electric is the name to know when you're looking for top-quality electrical services that will give you fantastic performance for a long time to come. We're dedicated to providing our customers with unbeatable workmanship and precision so you can get the greatest return on your investment in our residential or commercial electrician services. Average homeowners and large commercial property owners alike will benefit from our unstoppable commitment to quality at every turn. See what a difference Oran's Electric can make when you call today!
A Full-Service Residential & Commercial Electrician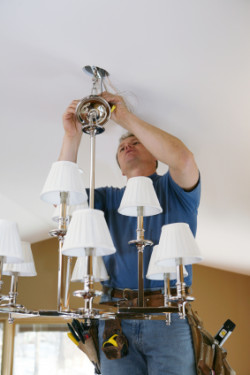 As a highly skilled and trained electrical company, Oran's Electric is able to provide local home- and business owners with exceptional work for jobs of all sizes. There's truly no electrical system too big or too small for our experts. Whether you're looking to install landscape lighting for your back patio, a backup generator for your restaurant, or complete wiring for your new retail space, our team can handle it. In our 8 years of hands-on experience, we've perfected our skills and will be able to handle virtually any installation or repair you throw our way. 
Some of our commercial and residential electrical services include:
Wiring for new construction
Rewiring for remodels and retrofits
Electrical panel upgrades
Surge protector installation
GFCI protection
Attic and exhaust fan installation
Switch and outlet installation
Light fixture installation (including energy-saving lights)
Generator installation
Smoke detector installation
Appliance installation
Doorbell installation
Intercom installation
Home theater installation
Network cable installation
EV charging station installation
And more!
Whether it's for a residential, commercial, or industrial property, our team has the electrical services you need. In addition to installations, we can perform troubleshooting and repairs. 
Workmanship That Can't Be Beat
At Oran's Electric, we pride ourselves on delivering high-caliber handiwork for all of our customers. When you hire us for the job, we will use professional-grade equipment and all of the industry's latest techniques to create the perfect solution for your electrical needs. No matter how major or minor you may think your service may be, you can rest assured that our technicians will handle it carefully and correctly. At the end of the day, your safety, comfort, and satisfaction are our top priorities, so we'll do everything in our power to provide you with the precision and accuracy you deserve. 
Fantastic Value
When you work with Oran's Electric, you get so much more than run-of-the-mill electrical services. We actually offer some impressive perks, including:
Maintenance agreements
Standard privacy policy
Free estimates
Service call fees waived with completed repairs
Emergency services
Our residential and commercial electrical contractors are fully licensed by the state of California (C-10 #940649). We're also fully bonded and insured. If you're looking for an electrical company in Van Nuys you can trust for accurate handiwork and long-lasting results, then you've come to the right place. Call or e-mail us now to get started!