Home Theater Installation
Interested in enjoying the comfort and high-quality entertainment of a home theater system? Call Oran's Electric, the answer for home theater installation in the Van Nuys area. With today's high-tech audio video technology, home theater systems can now deliver the state-of-the-art image and sound quality that you would expect to find at an actual theater. Thankfully, our specialists have the advanced tools and techniques needed to work with this high-tech equipment and create a home theater setup that's guaranteed to impress all your friends and family. We're proud to deliver some of the most satisfying handiwork and customer service in the area, so give us a call today! We can't wait to give you the custom home theater system you've been dreaming of.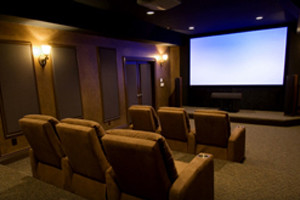 At Oran's Electric, we work hard to ensure your complete satisfaction with every project, and that includes everything from top-quality home theater installation to thorough cleanup and fast turn-around service. When you want the job done right, Oran's Electric is the home theater installer you can trust for superior workmanship and service. We offer:
Screen installation
Surround sound installation
Multiroom sound systems
Projectors
Hidden wiring
Automated switching
Wireless systems
Flat panel TV wall mount installation
And don't forget, we also offer home theater systems on a smaller scale. So if your home or budget can't quite accommodate a full home theatre installation, Oran's Electric can still help you upgrade your in-home audio visual entertainment experience!
Whether you want a professional TV wall mount installation, surround sound installation, or the whole package, Oran's Electric has you covered. Our team of home theater system technicians has what it takes to ensure your audio video equipment is precisely and properly installed for world-class performance and appearance. We provide installation on everything you need for a fabulous in-home theater. From mounting your flat-screen TV to designing a hidden wiring plan to installing surround sound speakers, Oran's Electric is here to ensure that you get the absolute most out of your home theater.
Full-Service Home Theater Setup
When you choose Oran's Electric, you don't have to worry about being left with a fantastic home theater system that you know nothing about. Our professionals not only provide you with top-quality home theatre installation and workmanship, we also take the time to educate you on how to operate your new system. A home theater installer from our team will walk you through the various aspects of your new surround sound, projector, or home theater system, making certain that you'll be able to get the most out of your system.
Have questions? Don't hesitate to give us a call. At Oran's Electric, we're happy to help.
Home Theatre Installation
Home Theater Installers