Network Cable Installation
Are you a homeowner seeking to expand your family's Internet connectivity? Are you a business owner in need of network cable installation for your office or retail space? Call the team of electricians and network wiring specialists at Oran's Electric for the first-class workmanship you need. Network installation is tricky and involved, and it can seriously impact your company's productivity for the better or worse—which is why you need a skilled professional to handle all of your network cable wiring. When you hire us to perform your network cabling services, you can rest assured that you're getting some of the most dependable and effective work in the Van Nuys area. Call or e-mail us today to learn more!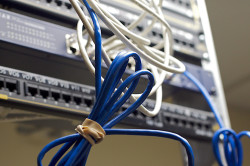 Network cable installation is a great option for increasing Internet and computer-to-computer connectivity. This enhancement expands the ways in which different workstations can connect with each other and the world. At Oran's Electric, we're fully equipped to install network cable technology of all capacities, and we can work with you to create a customized network cabling installation plan that suits your building's layout, as well as your particular needs and budget. We're committed to bringing you great results in network cable installation, from creating a clean, tidy appearance to ensuring your system functions at its peak. We'll even carefully hide your network wiring behind walls wherever possible for minimal distractions. 
At Oran's Electric, our network wiring contractors can work with a variety of cable types, including:
Coaxial cables
Data (Ethernet) cables
Phone cables
Cat5 cables
And more
If you want professional appearance and flawless service, Oran's Electric is the network cable installer for you. Our licensed, bonded, and insured technicians are equipped with the tools and training to complete everything from a basic home network installation to Cat5 cable wiring for the whole office. Plus, you can be confident that you're getting the most advanced solutions around because we're always keeping up with the latest industry trends, technologies, and techniques. The network cable wiring specialists at Oran's Electric are ready to help your Van Nuys-area home or business upgrade to the most efficient and versatile technology available. From simple, residential Internet connections to sophisticated, phone cable wiring systems that span throughout offices, we perform network cabling services of all sizes.
Cat5 Cable Wiring
Whether you want to connect to a network printer, share server files, stream audio and video, or otherwise link computers and components in a Local Area Network (LAN), you want Cat5 cable wiring. The standard for most Ethernet networks, Cat5 cable wiring is best left to the network installation professionals at Oran's Electric. If you want to get the best possible performance out of your Internet-based devices (such as video game consoles, Blu-ray players, printers, scanners, and computers), have our cable installers do the work. We'll install your Cat5 cable wiring with the utmost accuracy for reliable performance around the clock. 
For top-quality installation, superior service, and some of the best network cable contractors around, contact us via phone or e-mail today! Our network cable installers are available to answer all of your questions regarding system installation and operation, and we can even provide you with a free estimate on your desired services. Oran's Electric makes technology work for you, so call today to get started!
Installing Network Cables
Network Cabling Contractors