Residential Electrician
From whole-house rewiring to generator installation, there is no job too big or too small for the residential electricians at Oran's Electric. We're committed to providing the Van Nuys area with first-class precision and workmanship for a wide variety of residential electrical services. Whether you need a professional to wire a newly constructed house or you want to switch over to energy-efficient lighting, you can rest assured that you'll receive top-quality handiwork and the utmost professionalism from the team at Oran's Electric.
While there are distinct right and wrong ways to perform electrical services, the electricians at Oran's Electric know that each project presents unique obstacles and needs. You can count on us to accurately troubleshoot malfunctioning systems, provide sturdy solutions with nothing less than the most trustworthy products, and work with our clients to create customized electrical system designs. At Oran's Electric, we're dedicated to providing customers with the highest quality of work possible, and that means tailoring our residential electrical services to you.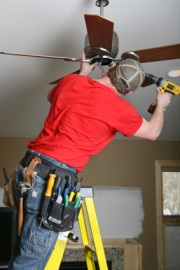 Oran's Electric is also proud to offer one of the best values in the Van Nuys area, as we offer an impressive variety of all-inclusive home electrician services. Some of those services include:
House wiring and rewiring
Electrical wiring as part of a remodeling project
Electrical panel installation and replacement
Service upgrades
Whole-house surge protector installation
GFCI protection
Attic and exhaust fan installation and replacement
Light switch and electrical outlet installation and replacement
Lighting fixture installation
Energy-efficient lighting installation
Generator installation
Smoke detector installation
Appliance installation
Doorbell installation
And more!
We can repair, replace, or install virtually any electrical system in your home. We perform thorough troubleshooting before every repair, which means you can count on our home electrical company to get straight to the bottom of any malfunction or performance issue and leave you with a solution that actually works. 
A Safe, Residential Electrical Company
Some household projects are great for do-it-yourself homeowners, but electrical work isn't one of them. Calling an experienced home electrician in to work on your home improvement project is essential to ensure ongoing safety during and after the project. A single mistake by an amateur electrician could result in electrical shock, a house fire, and other safety hazards. To make sure that your project is completed correctly and safely, call Oran's Electric. Our electricians never cut corners, and we always complete each project with the most advanced tools and techniques. Let us show you the difference that our licensed, bonded, and insured residential electricians can make!
Oran's Electric can perform services for both new and existing constructions. There's truly no job too big or small for our home electrical company. Whether you need one new outlet installed or are interested having your entire house rewired and updated, we're the residential electrical company in Van Nuys you can trust. 

Contact us by phone or e-mail today to schedule a service call for whatever residential electrical services you need!
Electrician in
Home Rewiring
Master Electrician
Electricians in
Electric Service Upgrade
Electrical Contractor